Travelling With Kids As A Single Parent: Don't Panic!
The kids have been home from school for several weeks now, and evidence of the sun is in the slight tans on their noses. Your freezer is fully stocked with ice cream and freezer pops, and the hum of air conditioning lulls the family to sleep. All of the signs of summer are here. All that's missing is the annual family vacation. Just because you're relying on us, Support Collectors, for your child support collection doesn't mean you and the kids can't celebrate with a trip away.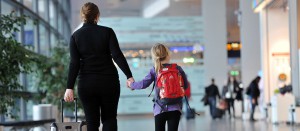 We appreciate the thought of travelling alone with your children is a daunting one. Travel is stressful even in the best case scenarios. Adding kids into the mix with only one adult supervising only complicates matters. Whether you're planning on a long flight around the world or a simple road trip across the state, nerves mingle with excitement in the upcoming days and weeks before your trip.
It's normal for parents to worry, but anxiety doesn't have to consume your every waking moment before lift-off. Use this quick organizational guide to eliminate stress and keep your head on straight throughout the trip
Plan Around Kid Friendly Destinations
Pre-children, your dream vacation may have been a backpacking trip through Thailand. Unfortunately, this kind of holiday isn't kid-appropriate. Adjust your expectations according to your family, looking out for cities and hotels known for their inclusive atmosphere. Check with your chosen hotel to see if they have any activities or deals for children. You may be surprised that some hotels offer kids centers packed with age-appropriate activities.
Don't be afraid to look at all-inclusive packages. In many cases, these end up being cheaper than DIY holidays, as the final price includes airfare, food, and accommodations. Many of the top resorts also have family packages available with activities and babysitting geared for those with children.
Get Your Kids Involved
When you're the sole provider for the household, you're used to making the big decisions on your own. This is a hard earned skill that works to your advantage in most situations, but you may want to loosen your control over the family vacation. Involve your children by asking them what they would want to do while on holiday. You can brainstorm together day-trips and other activities to keep you occupied while abroad.
Be Prepared for Downtime
You won't be busy with scheduled activities and tours every waking hour of your vacation. Sometimes you'll have some downtime in between meals and other activities. It's a good idea to scope out community parks, pools, and other public spaces where you and the family can relax without spending money. Pack a picnic and any of these locations can provide a full day of fun.
Pack a Distraction Pack
While the novelty of travelling by bus, train, or plane may occupy them for a little while, eventually their attention spans will meet their match. Have a distraction pack at the ready whenever this happens. Keep it full with portable, mess-free crafts like a coloring book or travel journal. If you have an iPad or tablet, stock it with kid-friendly apps. Just remember to keep the volume set low so as not to disturb your fellow passengers. Of course, classic travel games like Eye Spy and 20 Questions can keep them occupied without any arguments, too.
Keep these tips in mind wherever the summer takes you. Whether it's around the block to the community pool, or the other side of the country for a well-deserved break, these techniques will keep your kids occupied and out of your hair. Just remember to check back in with our offices to see if progress with your file has changed when you return.
While you're having fun on vacation, we'll be hard at work locating NCPs and negotiating voluntary payments. We're dedicated to our work at any time of the year because making a difference one family at a time, one payment at a time is our definition of success. In most cases, we're able to do just that for our clients. Sometimes, we exceed even our own expectations, like when one of our long-lasting cases in California resulted in a collection of $342,677 in alimony.
If you call the Golden State your home, check out these great resources for when you need help in California with child support. They'll outline what your rights as a single parent are in the state. When combined with our highly personalized, dedicated child support enforcement services, these resources can help you navigate single parenthood with confidence.
When the vacation is just a fond memory and you're back to your regular routine remember to contact Support Collectors. The path towards collecting your support this summer starts with a simple phone call.