COVID-19 INFORMATION:
Support Collectors is here to help during these difficult times.
Read our full statement ›
A Testimonial from Valerie C.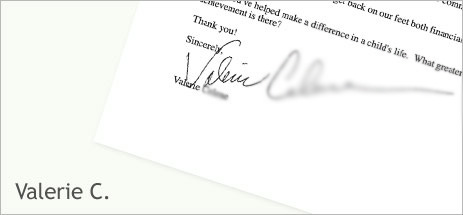 "I want to take this opportunity to express my deepest gratitude to the team at SCI.
I am very impressed with the professionalism, integrity, and sensitivity that you exhibit in handling complex and difficult situations. I found Support Collectors unwavering in your commitment in overcoming obstacle after obstacle.
Thank you for helping us get back on our feet both financially and emotionally.
You've helped make a difference in a child's life. What greater achievement is there?
Thank You!"
Sincerely,
Valerie C.
---
The next success story could be yours!
For over 20 years, Support Collectors has helped countless families just like yours recover the money they're owed, even when state agencies have failed. Learn more about how we work, or click here to get started ›