COVID-19 INFORMATION:
Support Collectors is here to help during these difficult times.
Read our full statement ›
A Testimonial from Tina W.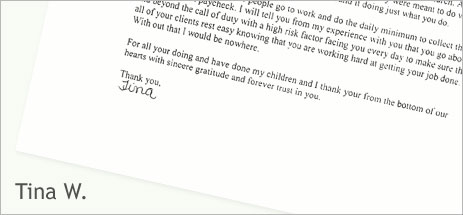 "I would just like to begin by stating that without you or your team my children and I would be no further with our child support collection than we were before I had found your team of wonderful people.
I learned of your company when I went to social services asking for help then being denied. I was surprised a company like yours even existed. My child support case manager in the county where my divorce was filed discouraged it. When I began with you I was skeptical and very doubting that anything would or could be done. Now here we are several years later and well it's been great not having to worry about doing all the leg work myself like I had when I first moved back to MN in getting the support my children are entitled to.
As you know my ex-husband lives out of state and is constantly moving from job to job and now state to state. You and your team have been able to do what I consider the impossible. Even though its tough at times to get him located you do your best and that's all I've ever asked for and expected. You also keep me in mind with updates and emotional support when it's needed, especially when times are tough you just sit back and listen to me.
I have come to the conclusion that success can be measured by what you mean to a child and what you have done to help them grow in life. Well, I can name three children that you have touched maybe wihout even knowing you have. They are my three children. And someday they will understand that everyone has something they were meant to do with their lives. I believe that you and your team have found it doing just what you do.
I honestly believe that some people go to work and do the daily minimum to collect their 40-hour a week paycheck. I will tell you from my experience with you that you go above and beyond the call of duty with a high risk factor facing you every day to make sure that all of your clients rest easy knowing that you are working hard at getting your job done. Without that I would be nowhere.
For all you're doing and have done for my children and I thank you from the bottom of our hearts with sincere gratitude and forever trust in you. "
Sincerely,
Tina W., Ohio
---
The next success story could be yours!
For over 20 years, Support Collectors has helped countless families just like yours recover the money they're owed, even when state agencies have failed. Learn more about how we work, or click here to get started ›