COVID-19 INFORMATION:
Support Collectors is here to help during these difficult times.
Read our full statement ›
A Testimonial from Shirley R.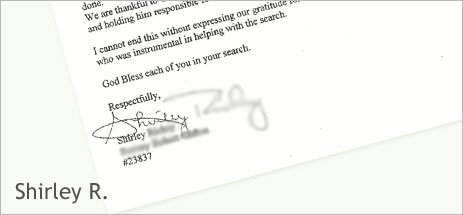 "About 5 minutes ago I received a check for $21,000.00, from the deadbeat dad of our child. Thank you for your support and help over the past two years. You said you could do it…and you did.
To you mothers and dads out there that are waiting for your support to come, don't give up. I wish I had realized years earlier that there is help in getting support from a deadbeat parent. Mind you, it is not always dads that are deadbeats! However, in this case it is the dad that has totally ignored our son. This child is 25 years old! I thought there was no hope in getting the child support due us until entering the internet world and finding Tim Turner of Support Collectors, Inc. Today, I have in hand a check to prove it can be done.
We are thankful to God for allowing us to find Support Collectors and also for finding this dad and holding him responsible for his neglect. Again, I say, do not give up.
I cannot end this without expressing our gratitude for Mr. Kent Canada, a Texas lawyer, who was instumental in helping with the search.
God bless each of you in your search. "
Sincerely,
Shirley R., Wisconsin
---
The next success story could be yours!
For over 20 years, Support Collectors has helped countless families just like yours recover the money they're owed, even when state agencies have failed. Learn more about how we work, or click here to get started ›