COVID-19 INFORMATION:
Support Collectors is here to help during these difficult times.
Read our full statement ›
A Testimonial from Mary P.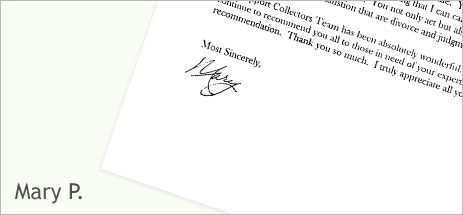 "I would like to take some time to say thank you to all of you who have helped me with my collections needs. You all have been my source of comfort, spitfire and get-it-done since August of 2002. Thank you for listening and hearing my concerns and needs and acting swiftly on my behalf. You will never know how greatly your efforts are appreciated. You have taken me from a total basket case to the almost-normal human being I am today.
Seriously, your efforts have made my life…well…a life. You have brought justice to me. You have given me strength by knowing that I can call and someone will hear me and act to protect my interests. You not only act but also understand the frustration, anger and exhaustion that are divorce and judgement collection.
The Support Collectors team has been absolutely wonderful. I have and will continue to recommend you all to those in need of your expertise. It's an easy recommendation. Thank you so much. I truly appreciate all your hard work. "
Sincerely,
Mary P., California
---
The next success story could be yours!
For over 20 years, Support Collectors has helped countless families just like yours recover the money they're owed, even when state agencies have failed. Learn more about how we work, or click here to get started ›