COVID-19 INFORMATION:
Support Collectors is here to help during these difficult times.
Read our full statement ›
A Testimonial from Mary Jean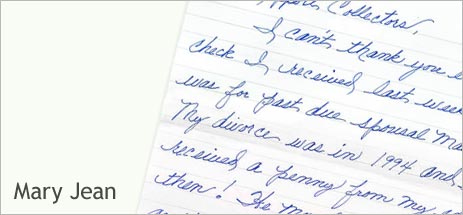 "To Support Collectors,
I can't thank you enough for the check I received last week! The check was for past due spousal maintenance. My divorce was in 1994 and I haven't received a penny from my ex since then! He moved out of state and I couldn't find anyone to go after him until now.
There was nothing for me to do except sign a couple of papers, and they did all the rest.
I'd certainly recommend Support Collectors to anyone!"
Sincerely,
Mary Jean, Minnesota
---
The next success story could be yours!
For over 20 years, Support Collectors has helped countless families just like yours recover the money they're owed, even when state agencies have failed. Learn more about how we work, or click here to get started ›