COVID-19 INFORMATION:
Support Collectors is here to help during these difficult times.
Read our full statement ›
A Testimonial from Linda E.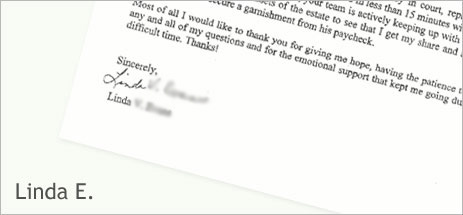 "I would like to take this opportunity to express my gratitude for all you and your staff have done for me in collecting over $35,000 in back child support thus far, child support that two state child support offices were unable to assist me in collecting! Due to my frustration, when I called your company I was not very hopeful that anything could be done to attach to my ex-husband's share of his late father's estate. You assured me that it was in fact possible to file a lien on the estate. Though I also really appreciated your honesty in telling me that given only a week and a half before dispersal, it could possibly be too late. Given the pressing deadline, your staff and attorneys immediately went to work with a dedication that was very impressive and totally unexpected. Not only were you able to file the lien, you did it with two days remaining before the deadline! Everything was done perfectly with no "loopholes" and this in a state that the child support order had not even been issued in! Wow!
When my ex-husband filed an appeal, you had an attorney in court, representing me. Thanks to your expertise, this matter was resolved in less than 15 minutes with the appeal being fully denied. In addition to this, your team is actively keeping up with the disposal of the remaining physical assets of the estate to see that I get my share and at the same time, working to secure a garnishment from his paycheck.
Most of all I would like to thank you for giving me hope, having the patience to answer any and all of my questions and for the emotional support that kept me going during this difficult time. Thanks! "
Sincerely,
Linda E., Alabama
---
The next success story could be yours!
For over 20 years, Support Collectors has helped countless families just like yours recover the money they're owed, even when state agencies have failed. Learn more about how we work, or click here to get started ›