COVID-19 INFORMATION:
Support Collectors is here to help during these difficult times.
Read our full statement ›
A Testimonial from Bonnie G.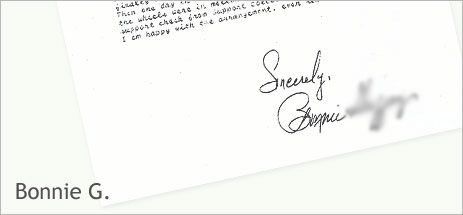 "I have had the status of single mom for the past 10 years and for the most part without the benefit of child support. After doing all of the necessary "things" for the local county child support/collection agency, there was never any satisfaction from them. I could not understand, how some women were able to collect, even from states far away, yet I was given responses that all but relieved the agency from its supposed "collection" service.
One almost gives up. Then, in the fall of '96, through general conversation with my co-worker I found out about an agency that claimed to be able to collect support for a small percent of the support money. Why not give it a try? I phoned Support Collectors and spoke with them regarding my situation. They were very patient, and put hope into scope where I otherwise had very, very little.
Since I had become rather apprehensive of any scheme that would bring justice to this aging mother of one, my response time was slow. Support Collectors would contact me and prod me to fill in the necessary papers do the few things they needed; it took me a while but I finally obliged them. (With the "oh yeah, sure" attitude.) Then one day in March of '97 Support Collectors called me and said the wheels were in motion. I received my first child support check from Support Collectors on May 17, 1997.
I am happy with the arrangement, even relieved. "
Sincerely,
Bonnie G., Alabama
---
The next success story could be yours!
For over 20 years, Support Collectors has helped countless families just like yours recover the money they're owed, even when state agencies have failed. Learn more about how we work, or click here to get started ›