COVID-19 INFORMATION:
Support Collectors is here to help during these difficult times.
Read our full statement ›
A Testimonial from Becky R.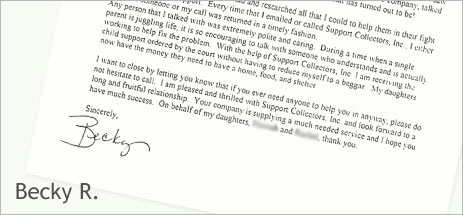 "Let me begin by saying THANK YOU! As you will see with my attached letter that I sent to my friends, family and colleagues I have much to thankful for this past year. One of the many events that were not mentioned in my Christmas letter was partnering with Support Collectors, Inc. The past 3 years have been difficult ones to say the least. With a tragic divorce and the loss of a home, husband, and lifestyle, my daughters and I had much to readjust to. Their father contested a divorce that was his own choice for 2 years and during that time as well as the year following was inconsistent in paying his court ordered child support. During that time, he was living in Michigan and finally moved to California where he continued to be self employed. Although, the court system is diligently attempting to help parents collect much needed child support, they are overwhelmed. Also, if a parent that is to pay child support lives out of state, it makes it even more difficult to collect owed funds. And if that same parent is self employed, it seems virtually impossible to collect funds. All of this was my plight. Frustration was my constant companion during this time. I had no desire to fight my way through the court system nor did I have the time or resources. With my father's illness, working, and caring for my daughters, I did not know what to do. Thankfully, I was researching my alternatives, when I saw Support Collectors, Inc. advertisement. I looked at the web site, researched the company, talked with the team at SCI and made my decision. What a great decision that has turned out to be.
I supplied all the information that I had and researched all that I could to help them in their fight to collect my child support. Every time that I emailed or called Support Collectors, Inc., I either talked to someone or my call was returned in a timely fashion. Any person that I talked with was extremely polite and caring. During a time when a single parent is juggling life, it is so encouraging to talk with someone who understands and is actually working to help fix the problem. With the help of Support Collectors, Inc. I am receiving the child support ordered by the court without having to reduce myself to a beggar. My daughters now have the money they need to have a home, food, and shelter.
I want to close by letting you know that if you ever need anyone to help you in any way, please do not hesitate to call! I am pleased and thrilled with Support Collectors, Inc. and look forward to a long and fruitful relationship. Your company is supplying a much needed service and I hope you have much success. On behalf of my daughters, Hannah and Rachel, thank you. "
Sincerely,
Becky R., Oregon
---
The next success story could be yours!
For over 20 years, Support Collectors has helped countless families just like yours recover the money they're owed, even when state agencies have failed. Learn more about how we work, or click here to get started ›