Family Fun On The Fourth Of July
As much as collecting child support is always at the forefront of your mind, we can appreciate that happier occasions like this year's Fourth of July weekend deserve to take precedence once in a while. Your mental well-being will thank you when you take the time to relax and enjoy the big day with your kids. Luckily, most of us adults have the day off— which means you can plan family-friendly festivities all day long. The crew at Support Collectors want to share with you our favorite ways to celebrate the nation's birthday, so grab all the red, white, and blue you can find and get ready to have some fun.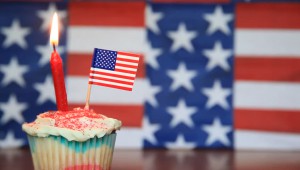 1. Watch Fireworks
Did you know the US imported roughly 258 million pounds of fireworks for Independence Day in 2014? We need that much because approximately 43% of Americans plan on watching a fireworks display on the 4th. It may be an obvious suggestion, but it's a classic — which is why it takes the top spot on our list.
2. Host a BBQ
Whether you invite the whole neighborhood or keep it small, a BBQ is another classic way to kick off the Fourth of July right. We expect to see the grill loaded up with hot dogs this year, just like every other Fourth of July. It is, after all, the quintessential BBQ food, with nearly 150 million Americans loading up their buns on the 4th, according to the National Hot Dog and Sausage Council.
3. See a Movie
With the sun shining bright in the sky, walking into a dark cinema may not be your first thought but it's worth considering. Most of your neighbors will be enjoying the great outdoors, so you're likely to avoid big crowds at the theaters. With blockbusters like Guardians of the Galaxy II and Wonder Woman in theaters now, there's bound to be a movie that the whole family wants to see. If you'd rather spend the day under the sun, look into any local drive-in theaters to get the best of both worlds and catch the latest flicks after sunset.
4. Have a Water Balloon Fight
This cheap, simple, and wet activity is sure to be your kids' favorite — especially when the mercury hits triple digits. It's an easy way to keep everyone cool and keep the kids occupied as you focus on the grill. Just remember to make sure they know that the water balloons stay outside to keep mess to a minimum. Who knows — you might just find yourself compelled to join in on the fun!
5. Hold a Watermelon Seed Spitting Contest
Next to hot dogs and other grilled meats, what's more American than chowing down on some watermelon in the summer heat? We can't think of anything. Pick up some of the fruit on next your grocery trip, making sure to stay away from the seedless varieties. On the 4th, mark off an outdoor 'spitting zone' to keep things organized and use a tape measure to see who can spit the farthest.
6. Local Activities
Most towns and cities will plan something for its residents, including an end-of-night pyrotechnics show, but your local municipality will offer more than just that. Though we help single parents all around the States, our headquarters are located in Champlin, MN. To understand how we're able to serve the entire nation, click here to learn how child support collection works. We know that Champlin is participating in the nearby Coon Rapids' celebrations that include a parade, live music, a carnival midway, bingo, and local food vendors. Speak to your neighbors or head to the library to learn about all of the activities planned around you.
Once the big day is over and you're back to your regular routine, start thinking about your child support. You can contact us anytime you want to get started. In the meantime, from our family to yours, we wish you have a happy Fourth of July.