Beat The Heat Without Breaking The Budget
In some parts of the country, triple-digit temperatures are just an expected outcome of the season. In other parts of the country, it signifies doomsday — or global warming. Wherever you call home, the heat can leave you grumpy and sweaty. You may be tempted to hide yourself away in an air conditioned fortress, but there's only so much time you can spend inside before you and the kids go a little stir crazy.
If you're tired of letting the heat dictate how you and you children spend the rest of the season, you're in luck. We have a list of our favorite ways to get the most out of the season. Keep reading and let Support Collectors, your trusted child support enforcement agency, offer up fun and affordable ways to beat the heat.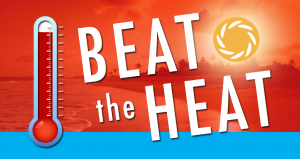 1. Visit Municipal Pools
Though there's an exception to every rule, the majority of cities will have a free municipal pool. If not that, there should be a children's splash center at a community park. Pack your floaties and plan a day around a trip to the pool.
Just remember to slather on sun screen. We recommend avoiding Banana Boat, as the company is currently under investigation for chemical burns caused by its brand of baby sunscreen. Take a look at this list for the best suncreens for your kids. You should also make sure to keep hydrated by the pool, so bring lots of water for the family.
2. Play With Your Food
You have a strict policy at the table but you may want to loosen the rules once you hit the backyard. Like most parents across the nation, your freezer is probably full of freezies, ice pops, or freezer pops. Whatever you call them, they can play two roles this summer: one as a cool treat to eat and the other as a Star Wars themed game. This idea was taken from Parents.com, but it was so cute and simple that we couldn't resist adding it to our own list. All it takes is some grey and black felt glued together to create handles. Slip them onto blue and red freezies and you have edible light sabers.
Alternatively, if you don't have a creative bone in your body, there's always what we suggested back in our post for the Fourth of July. Nab some watermelons with the seeds in and see who can spit them the farthest. For those of our customers who contacted our Florida child support services, you'll be glad to hear the Florida watermelon harvest is in fine form!
3. Head to the Library
Depending on the size of your local branch, your community's library should have a packed summer schedule full of family-friendly activities. Head into town and speak with your librarian to see if there are any story times, crafts, and teen activities available. If not, many of the biggest bookstore chains, including Barnes and Noble, offer free story times for young children and teens alike. Check online for the times.
4. DIY Sprinkler
Your garden hose promises hours of fun with only a few minor adjustments. The next time you and the kids polish off a 2-liter bottle of pop grab a sewing needle. Use this to piece through the plastic, poking about 10 holes in the bottle. Widen these holes using a chopstick. Then head to the hardware store for a hose adapter so you can attach the bottle to your hose without any leaks. Turn on the water and you have your very own super soaker sprinkler for your kids to play in.
Did we miss your favorite summer activity? Let us know! We always want to hear more about the families we help, including the ways you try to beat the heat.
Regardless of the temperatures, we'll be here ready to get the money you're due, so call us for child support help this summer. We can't do anything about the heat, but we can do something about your NCP!