Success Stories
We've helped thousands of families improve their lives by collecting child support or spousal support they were due. Don't let an evasive spouse -- or deadbeat dad or mom -- prevent you from getting the support you need and deserve. Read how the right private child support collection and enforcement agency can improve your life.
Success Stories: Valerie C.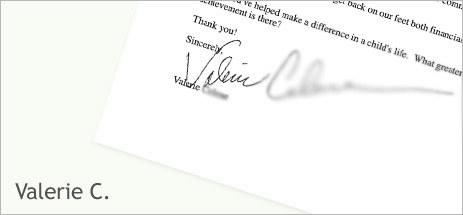 "I want to take this opportunity to express my deepest gratitude to the team at SCI.

I am very impressed with the professionalism, integrity, and sensitivity that you exhibit in handling complex and difficult situations. I found Support Collectors unwavering in your commitment in overcoming obstacle after obstacle.

Thank you for helping us get back on our feet both financially and emotionally.

You've helped make a difference in a child's life. What greater achievement is there?

Thank You!"

Sincerely,
Valerie C.,
All of these "success stories" are exact quotes from actual letters that we have received from current and former clients. Originals of all letters are on file in our office.