Success Stories
We've helped thousands of families improve their lives by collecting child support or spousal support they were due. Don't let an evasive spouse -- or deadbeat dad or mom -- prevent you from getting the support you need and deserve. Read how the right private child support collection and enforcement agency can improve your life.
Success Stories: Mary Jean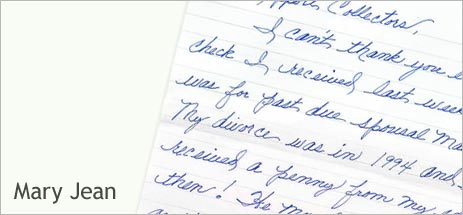 "To Support Collectors,

I can't thank you enough for the check I received last week! The check was for past due spousal maintenance. My divorce was in 1994 and I haven't received a penny from my ex since then! He moved out of state and I couldn't find anyone to go after him until now.

There was nothing for me to do except sign a couple of papers, and they did all the rest.

I'd certainly recommend Support Collectors to anyone!"

Sincerely,
Mary Jean , Minnesota
All of these "success stories" are exact quotes from actual letters that we have received from current and former clients. Originals of all letters are on file in our office.