Success Stories
We've helped thousands of families improve their lives by collecting child support or spousal support they were due. Don't let an evasive spouse -- or deadbeat dad or mom -- prevent you from getting the support you need and deserve. Read how the right private child support collection and enforcement agency can improve your life.
Success Stories: Debra T.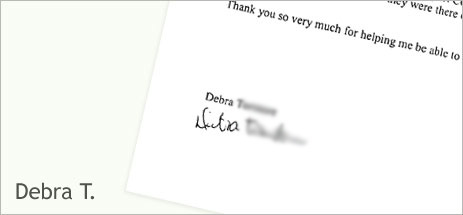 "In 1986, I got divorced and was to receive child support payments from my ex-husband. I never received any money because he would jump from job to job in order to avoid paying what he should.

In 1996, I saw a news story about a lady who had the same problems with her payments that I did, not getting the money needed to help support her children. I taped the news report and called Support Collectors. I started working with them and in a few months started getting my child support. My ex-husband still ran from job to job but Support Collectors was able to stay on him, found his new job and made sure the payments kept coming in.

It's been 10 years since I started with Support Collectors and just got my final child support payment. I sure am glad they were there otherwise I wouldn't have gotten anything!

Thank you so very much for helping me be able to support my children. "

Sincerely,
Debra T., Minnesota
All of these "success stories" are exact quotes from actual letters that we have received from current and former clients. Originals of all letters are on file in our office.